Everyone wants to be more productive? But being productive isn't something so easy; there is no secret elixir to attaining inhuman levels of efficiency. However, there are certain applications and softwares, which can cut down on your work, skyrocket your efficiency, streamline repeated tasks and can let you do more, better! Want to skip the fluff? Skip the next chapter and dive to our 45+ selection of productivity apps!
But before we start, first let's address a question.
What is Productivity?
Productivity can be understood as getting more output with minimum input; in other words, increased efficiency and ability to do more in lesser time. However, keep in mind that if you are not effective at what you do but just plain more efficient, you may have to do a lot more work in the end just to make up for it.
Which is why, in this case, when I say, "let's make you more productive", I mean, "let's make you more effective and efficient."
While there are several strategies and techniques which can help you increase your productivity but here we look at the use of apps to boost it.
This list of 42 apps will assuredly make you more productive, no matter what your work is, or how busy your schedule may look like. FYI, these apps have various uses and therefore I have categorized them into the following groups based on what they do-
1. Focussing, Procrastination and Self-Growth
I know you are thinking – why self-growth? What has it got to do with my productivity? Oh, but it has everything to do with your productivity. Bad habits can kill your productivity and make you procrastinate like a mind-less zombie whereas good habits can help you save precious time by automating what you need to be doing in your brain and it doesn't become a matter of thought anymore.
2. Planning and note-taking
3. Workplace
4. Networking
5. Money transactions and finances
6. Apps for Marketers and for Other Forms of Automation
7. Password Management
8. News
Now, all you gotta do is sit back, find the category of apps you require the most and make your choosing.
Just a word of the wise – If you actually read this article, make sure to try out at least one of the apps mentioned because just reading and not executing isn't exactly the most productive thing to do.
Note- Most of these apps are available for being used by PC and Macs. However, I have provided mostly links to Android and iOS devices. If you need the apps for your PC or Mac and the link is not given, then use the link to the homepages of the apps. They links are placed on the names of the apps.
Productivity Apps for Focussing, Procrastination and Self-Growth
Procrastination is the biggest productivity killer. You know you need to get stuff done, yet you laze around watching stupid videos on YouTube, that are absolutely not related to what you need to be doing.
Focus – we severely underestimate all that we can get done if we put forward a little more amount of focus. If you can increase your focus to the work at hand, you can get it done faster and much more effectively than normal.
Here are some apps, that will work like a charm in order to make you more focussed and consistent at your work and reduce your procrastination.
1. Focus at Will (Free) – Available for both Android and iOS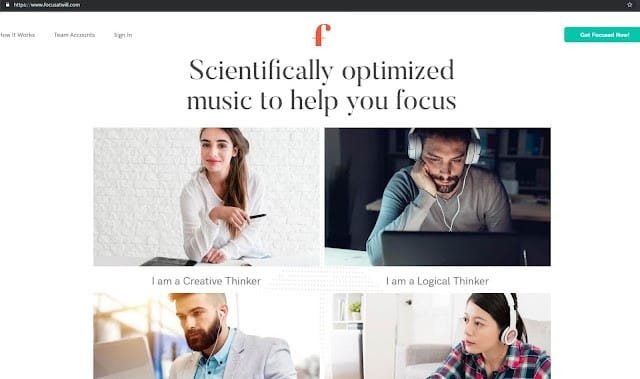 Listening to music while working may not appeal to some people but for whom it does, this app is a must. It has special playlist which has been designed scientifically to increase your focus, weed out distractions and make you more productive while you work. It is supposedly a neuroscience-based tool that can increase your focus by upto 400% when you work.
2. RescueTime (Free, but premium mode costs $72 per year) – Available for both Android and iOS
The app serves the simple function; that is to rescue your time. It tracks how you spend your time on the internet and sends you reports of all the sites you visit throughout the day. You can also set goals to increase your productivity and RescueTime will track how close you are to accomplish your goals. It also has a paid version which has added features like blocking websites so that you can spend your daily awake time completing your important tasks and being more and more productive.
3. Carrot (Only at iOS; Priced at $2.99)
This app series' homepage introduces carrot as "the A.I. construct with a heart of weapons-grade plutonium". It features several Carrot apps each of which have different functions like to-do list, alarm, getting fit, controlling calorie intake, and also to inform you of the weather. But the app that you need to be more productive is its to-do list app. It isn't just any other to-do list app but is one with a sadistic personality! It makes doing things more funny and enjoyable!
4.       Detox Procrastination Blocker (Free) – Only at Android
Needless to say, procrastination is a huge productivity blocker. If your phone is the root of your procrastination, then this is a must-have app. It blocks your phone for a specified time period. This app is best suited for students and people who do not need to work on their phone. If however, you need more support to block your procrastination, here is a set of apps which can help you destroy procrastination.
5. Habit List (Free; Premium mode – $4.99) – Only at iOS
Forming good habits and destroying bad habits can make you a lot productive. And this app starts small and lets you form habits by striking out successfully completed habits each day. It also shows you how close you are to forming a habit as you keep on doing the things you decided on daily.
The app does not take up much of your time and you will notice changes within a few days! In short the app motivates you, increases your focus, and keeps you on track to accomplish your goals. As an entrepreneur, this is very important. Not being consistent at your goals can make you lose a lot of time. You need to stay focussed at what needs to be done everyday and you need to do it fast without wasting any time procrastinating or pondering.
6. Any.do (Free) – Available for both Android and iOS
Any.do is an app which says that it functions as a to do list but does a lot more. While you can jot in tasks into its to-do list to keep up with your schedule, the app also can be used to set reminders, and work together by sharing lists and assigning tasks.
The app also has a feature called Any.do moment, which encourages you to make a habit by reviewing your daily tasks.
7. Focusbooster (Free) – Available for Windows, Android, Mac and iOS
More focus equals more productiveness. This app uses Pomodoro technique, which is a technique of working to increase focus spans. Pomodoro technique spans of four 25-minute long working periods with 5 minute intervals between each 25 minute session and a 30 minute break after the four periods.
Just a side note – You can increase your focus by leaps and bounds if you dedicate some time daily to practice mindfulness meditation.
8. Productivity Challenge Timer – forAndroid and foriOS (Free)
This one is another similar app, which uses Pomodoro technique to increase your focus and thereby your productivity. This app also employs a reward and punishment system, whereby you get promoted the harder you work and demoted the more you slack off.
This system also lets you accurately judge how hard you work daily. It has a project system, on the basis of which you can see, how many hours you work on each project that you specified. I used to use it religiously when I study or work on some other stuff. Now, I just lock my phone using Detox Procrastination Blocker (#4 on this list).
9. Coach.Me (Free) – Get it at iOS and Android
Coach Me is an app which increases your productivity and helps you develop habits by using Jerry Seinfeld's productivity method. Previously named as Lift, this app lets you toughen your mental muscles by doing what you need to be doing every day.
Apps for Planning and Taking Notes
There's a quote which goes kinda like this – If you are failing to plan, you are planning to fail.
Now, it is no secret that a plan cannot be followed down to the letter. We have stuff that crop up into our lives constantly. However, having a planner which lets you track and review your goals is very important if you want to be productive. In his book, Deep Work by Cal Newport, he stresses the importance of dividing your day into blocks of time wherein you should work on your priorities, without any distraction.
Having a planner can let you do all sorts of things, such as jot down your thoughts, which you may require later on, or your ideas or just track the stuff that got to be done.
10. Evernote (Free) – iOS and Android
Evernote is rather a very common app to increase productivity. It is a cloud based app which lets you jot down points, create or edit documents anywhere and from any device. So that's one app where you can put in all your notes, to-do lists and web articles along with photos and videos. This app can tremendously increase your productivity; so do give it a try!
11. Trello (Free) – Android/iOS
A great app for organising and planning all that you need to do down to the smallest and dirtiest details. It lets you organise your to-do lists into blocks, lists and cards, and lets you strike off stuff that you finish.
I love this app. It's kind of a to-do app (not exactly though) but on steroids! This can also suffice as a workplace app as it lets you collaborate your goals with your team.
12. Adobe Sign (closely related) (Free) – Android / iOS / Mac / Windows
Scanner is outdated. Have a document that you want to make digital? Just get the Adobe Sign app (formerly called EchoSign). It scans and records the document history so that you can get what you want very easily.

It also helps you sign documents and business contracts digitally much like HelloSign (#18 on the list)
13. Scraps Notes (Free) – Android/Apple
This app lets you write down ideas whenever you get "that moment of inspiration"! Writing down what you think or plan is very important as otherwise you may waste a lot of time recollecting and thinking about the same stuff whenever it calls for action. This app offers a simple function; that is to jot down your ideas.
Sometimes, to-do lists and just plain notepads are not enough. You need a platform for scribbling, writing and drawing. Inkflow lets you draw your ideas, thoughts and plans as you would do with a pen or pencil. You can even upload and rearrange whatever you draw just as your wish, so that you can quickly bring them up when it is time to put your ideas into action.
15. Microsoft To Do (Free) – Available for download on pretty much any device under the sun!
Productivity means managing and using your time in a way so that you can get more done in a lesser time span. Microsoft To Do is a task management app that allows users to create to-do lists and organize their tasks. It offers a range of features to help users manage their tasks, including the ability to create multiple to-do lists, set reminders and due dates, and share lists with others. Additionally, users can integrate their to-do lists with Microsoft Outlook, which allows them to see their tasks and appointments in one place.
Apps That Every Workplace Must Use
If you are managing a start-up or are working with a team at your business, these apps can greatly boost your productivity. You get an eagle eye's view of all the pending work and can micro-manage them efficiently. Some of these apps are also great for conducting conferences.
16. Asana (Free, but has a paid version also) – iOS/Android
Asana is a mobile and web app that lets your team collaborate when working on projects. While this email is actually not a project management app, it lets you manage the daily workflow and can also delve deep into daily task managements. Since employees can track the status of the project in real time, it reduces a lot of internal emails. It's easy to use design and interface lets you track the status of the projects from just the dashboard. You can also interchange and provide tasks to team members using the app.
Teams with upto 15 members can use Asana free of cost. Also, the app does not have many restrictions of its features in its freemium mode.
17. Quip (Free) – All devices including Android/iOS
Quip is a productivity app where you and your team members can edit, create and discuss about documents and spreadsheets, making you more productive when you work. Its easy to use interface is similar in both its mobile and desktop applications so that you can get more things done in lesser time.
18. HelloSign (Free but has premium modes) – Android/iOS
It's homepage reads "Your Most Important Business Agreements, Reimagined". Basically the app helps you get away from all the hassles of printing a business agreement, signing it and then again scanning it and sending it. It lets you sign business agreements online.
Its signing modes are extremely accurate and you need not have a Samsung Galaxy Note to perform accurate signatures. I own a clothing line and sometimes need to get some signatures done and I find this app incredibly useful. You can also create, edit and personalify your business documents and send them to people for signing it.
It has a free mode but its functionalities are vastly limited to just 3 documents from only one sender. If you need to sign a lot of business documents, I suggest you go premium with this app.
19. Task & Project Management – MeisterTask (Free) – Android/Apple Store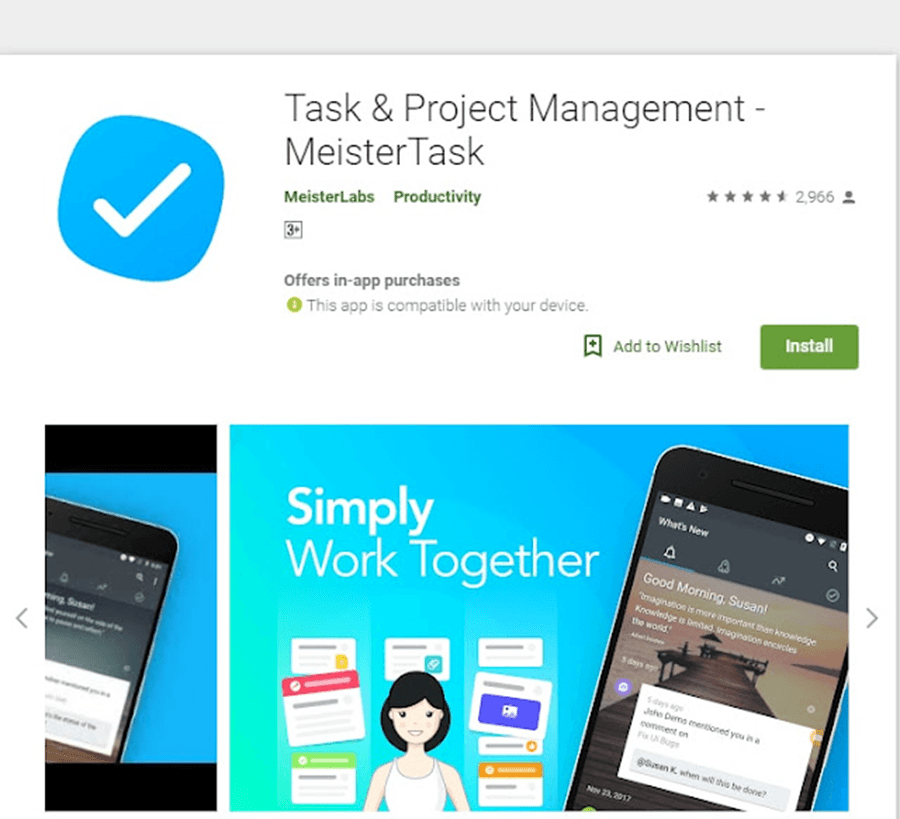 This app is a very good team management software which functions like a to-do list for the whole team. You can allocate responsibility and tasks to different members of your team with this app without any useless hassle so that you can get more work done in lesser time.
20. Box / Google Services (Free, but paid versions available too)
Box is an app which serves as cloud storage. However, the feature which allows it on this list is that your entire team can collaborate on your projects through the app, whilst you track the projects in real-time. This allows high productivity when you work with a remote team.
However, Google Services like Google Docs, Google Drive serve as powerful alternative to Box. Anyhow, no matter what you choose, you are bound to save quite a lot of time in the process.
21. Highrise (Free) – Android/iOS
Highrise is a flexible customer relationship management and contact management tool that will help you and your team stay organized and be more productive when doing tasks.
You and your entire company can collaborate on the tasks at hand and share contacts. You can also track the pending tasks and set reminders. It also lets you integrate it with other productivity apps like Mailchimp, Zapier etc.
22. UberConference (Free) – Android/iOS
Conference calls on steroids! This app lets you see the LinkedIn profiles of all the members in your conference call, so that you don't need to ask later on who's who. You can record the meetings so that you can use it for some work later on. You can also share your screen using the app!
This app also has the functions of a networking app.
23. Slack (Free) – Download Centre for Mac, Windows, Android and iOS
Slack is a mobile and web based app which serves as an essential communication tool for several business and startup owners. You can use it to message in real-time, archive your messages and search for messages too. It can also be used to store information and video call. This app is a must if you have a remote team working on your project(s).
24. Cisco WebEx (Free) – Download centre
This app lets you join in on web conferences from your device. It lets you lookup your contacts through Exchange when you schedule conferences.
It also supports wearables and has screen sharing feature. The app makes web conferences very easy to take part in and saves a lot of time for those who need to attend to web conferences on the go.
Now, it has acquired Accompany and uses some of its features to enhance the app.
25. 15Five ($7 for basic, $14 for plus) – Android/iOS
This app increases the performance of your team by asking them the right questions and letting them provide feedback which improves their personal productivity and the morale of the entire team. It also lets you evaluate your team and improve their engagement to the work at hand.
26. Taskray (Annually, $21 per month per user) – Go to the website to get a free trial.
Taskray is a highly rated project management app, which lets you and your team collaborate on projects and be more productive. TaskRay lets you freely manage, track and work in on your business. Its clean and simple user interface lets you tackle your tasks with ease and agility!
Apps that Help You Maintain Your Networking Game Without Any Fuss Whatsoever
For all business owners, entrepreneurs and office-goers, it is really important to maintain your contacts and network efficiently. Networking is a secret power that a lot of entrepreneurs under-utilize.
In fact, in my post on 70 business mistakes most entrepreneurs make (Mistake #32), Lori Cheek mentioned that entrepreneurs fail to network efficiently, even when they have the chance. However, networking can be a costly affair especially when your time is limited. As such, these apps can let you ace your networking game with a very small time-investment.
27. Accompany (Free)
This app is now part of Cisco. It has an AI driven algorithm that compiles highly relevant news about the people who are extremely important to you among your network.
It lets you store your research about those people including their contact information so that you don't waste time googling about those who hold influence or are important to your career.
You can still use it but I recommend using the Cisco WebEx instead.
28.   Contactually (Its yearly pricing consists of three modes – $39 for basic, $59 for professional and $99 for accelerator mode) – Android/iOS
This app lets you build, sustain and improve your relations with the contacts in your network by dividing your contacts into different categories as per your wish. It also enables you to assign time periods to follow up with your contacts. Let the app do the hard work of keeping you in touch with your important contacts without you having to worry about it!
29. FullContact (Free but has in-app purchases) – Android/iOS
This app is now part of Contacts+ Pro and has been rebranded as Contacts+. A contact app which is more versatile than the original iPhone's contact app.
FullContact adds email and other social media information to your contact list to make it a lot easier for you to contact the person you want to via whatever platform you want. It also scans business cards and cleans duplicate contacts.
30. CamCard (Free) – Android/iOS
This app lets your phone scan and save business cards to your contacts. It also syncs the information with all your devices.
Apps To Transact Money Without Any Hassle and For Keeping Your Finances In Check
Sending and receiving money can be a real headache for most budding entrepreneurs and busy white-collar employees. Writing cheques, keeping your bank account updated can make you lose out on a lot of time.
Add to that, you also need to keep your finances in check and plan your budget in advance. Doing this via an excel sheet or by hand can surely kill an entire day of productive work. However, these apps here allow you to do all that in as minimal time as possible.
31. Shoeboxed (Free) – Android/iOS
According to their homepage, Shoeboxed is used by about one million businesses. The app is really a big time saver when it comes to scanning, organising receipts and business cards into your phone, creating expense reports and tracking mileage among other uses.
Venmo and Paypal will appeal to those who have to make a lot of transactions. These apps save you a lot of time as sending money is as simple as opening the app, selecting the amount and clicking send. These apps also do not charge you any money for payments.
33. Square (Free) – Android/iOS
If you need to travel a lot due to work, then you should give this app a try. It lets you accept credit cards anywhere so that you can keep on taking payments while you travel. And that's not all; it also provides you analytics about your business. You can also send, track invoices, send receipts through text messages or email. All in all, this app is one which lets any business owner / entrepreneur amp up their productivity!
34. Invoice2Go (Free but has the in-app purchases of different pricings, starting at $9.99) – Android/iOS
It's an all-in-one tool that helps your small business manage customer relationships, send invoices, accept payments, improve cash flow, create an online presence, and much more.
It also has an invoice generator which allows its users to create a custom professional invoice in just one click!
Managing financial details (bookkeeping) is a very time consuming and boring thing to do; most don't like it but if you hurry through it, you are bound to make mistakes. Mint is an app which manages your finance for you very easily and without any effort. It can even create budgets for you and suggest you how to spend the money. It can also track and let you to schedule and pay your bills.
Related Read: The Best Revenue Model for Your Business
36. TripIt (Free) – Android/iOS
If you need to travel extensively, then this is an app which you must have in order to save time and lots of useless work. It helps you track your travels, the expense incurred and also to file your taxes. You can also sync Tripit with your calendar so that your travel plans show along with the other important events that you mark in your calendar. Tripit can also create custom itinerary for your travels, thus saving you a huge amount of time.
37. Expensify (Free) – Android/iOS
I use Expensify to manage and record my expense, track receipts. It can also be used to import credit card information and is a must for small businesses, accountants or individuals who don't want to waste their time tracking and calculating all these information.
Must Have Productivity Apps for Marketing and For Random Automation
Marketing is a must for all small businesses. You positively need to acquire customers as fast as possible. While I got some great resources to amp up your marketing game, these apps will help you to do it fast and with ease.
There are also some apps which let you perform some random automation and can be used in tandem with these apps.
38. MailChimp (Free, but has a paid version also) – Android/Apple Store
MailChimp is a great email automation platform designed to help you stay connected to your subscribers list. It can also be used to integrate an email form that allows direct signups to your MailChimp lists from your website.
39.   Pocket Analytics ($8.99) – iOS
Pocket Analytics is the one stop destination which combines and serves you the data from all the different analytics like Google Analytics Flurry, Piwik, Facebook, Pingdom and even more that you can view through just the app without having to open the different analytics again and again. You can customise the number of dashboards so that you can view the analytics easily, thus saving quite a lot of time.
40.   TrackMaven (The pricing information is available only upon request.)
This app is a one-stop marketing analytics software that provides you amazing Return on Investment (ROI) on several digital platforms by optimizing your content distribution, helping you identify the best advertising opportunities while simultaneously tracking the strategies employed by your competitors.
This analytics app is a great time saver and a must have app if digital marketing is your thing.
Related Read: Build Your Email List With These 32 Tactics
41. IFTTT (Free) – Android/iOS
(Video contains a beginner's guide to using IFTTT)
IFTTT is an app which increases your productivity by a huge margin as it can be used to perform a vast range of tasks as it supports over 400 apps like Telegram, Google Drive, Twitch, Instagram, Twitter, Gmail and Weather Underground. It also works with devices like Google Home, Amazon Alexa, Nest and Philips Hue.
The reason why IFTTT is an app which makes you a productivity powerhouse is that you the app cuts down on your need to open different apps so as to perform a task. For example, you can use IFTTT to warn you if the weather gets bad around your location, or to message your friends when you get to the cinema theatre.
42. Hootsuite (Free) – Android/iOS
Have a business that you want to promote online? Then get the Hootsuite app which lets you manage all your social media profiles just through it, thus saving you quite a lot of time. After all it is obvious that things become a lot easier when it is just one app for your Twitter, LinkedIn and Google Plus profiles among others.
43. Crowdfire (Android/iOS) (Free but has some paid options too)
Crowdfire is my #1 recommended app for social media automation. It will really appeal to you if you're lazy like me or if you are a complete workaholic entrepreneur who has no time to regulate his/her social media platforms.
Well, look no further because, Crowdfire will remind you to post regularly on your social media channels and do it for you. All you got to do, is give it 5 minutes, and that's that.
It has a premium mode which removes the restrictions on unfollowing and following other accounts and also liking other posts and posting content to your channels.
But, I think the freemium mode is more than enough for a small business or a one-person startup. And, if you are a blogger with just one account at each platform, I doubt you will ever require the premium version.
Here are some resources to amp up your marketing-
Apps to Keep Track of Multiple Passwords
Having the same password for several websites is extremely vulnerable. For example, suppose you log in to a fraudulent website with the same password you use everywhere; then, all your accounts at all the websites can be at risk.
You may lose all your personal data and even your payment apps such as Paypal can be compromised to steal a lot of money from your wallet.
That's why it is always better to securely store different passwords in apps like the following-
44. 1Password (iOS; $2.99 per month) / Dashlane (all devices; Free)
Remembering passwords is difficult and writing them down is unsafe. However, if you happen to use a note app to write down passwords, searching for each and opening them is really time consuming. And for that, I recommend the app 1Password. It isn't just fast; it is also secure.
However, I would like to add another option for you which is both cheaper than 1Password and also has a free plan with quite a lot of features. It is the Dashlane. Plus its availability isn't only limited to iOS.
Need to Stay Updated on the Latest News? Well Here You Go
45. FlipBoard / InstaPaper (Free)
All you need to do is select the type of feeds (news articles) that you prefer and you are done! This app will provide you with your favourite feeds- all in one place, so that you don't need to waste any time going through the newspaper or surfing different websites.
However, I don't think it is really required nowadays, because you get relevant information as per your browsing habits in the form of cars in Google Chrome browser app. I feel it's kind of enough to keep you updated on all relevant information provided you use Google chrome browser to search only for information relevant to your industry.
Anyhow, it's your call!
Wait, now that you have read the apps that can boost your productivity, you need to know how you can influence your own productivity, so as to be able to effectively use these apps. This guide on making you more productive is the last one you will ever need to read!
Now, it's your turn. Which app do you find you need the most and which one are you definitely going to try? Let me know in the comments!
And, if you liked this post, feel free to share it!