Mautic is an open-source marketing automation platform that provides a range of tools for email marketing, social media marketing, lead management, and analytics. It empowers businesses of all sizes to build personalized, multi-channel marketing campaigns, track performance, and drive conversions.
Setting Up Your Mautic Account
Step-by-step Account Creation
Creating an account in Mautic is a straightforward process. Simply visit the Mautic website, click on 'Try it for free,' and fill in the necessary details. Once your account is created, you can log in and start exploring the platform.
Initial Settings and Overview
Upon logging in, it is advised to familiarize yourself with the basic settings of Mautic, like setting up your timezone, integrating your email, and understanding various user roles.
Tour of Mautic Dashboard and Key Features
Breakdown of the Dashboard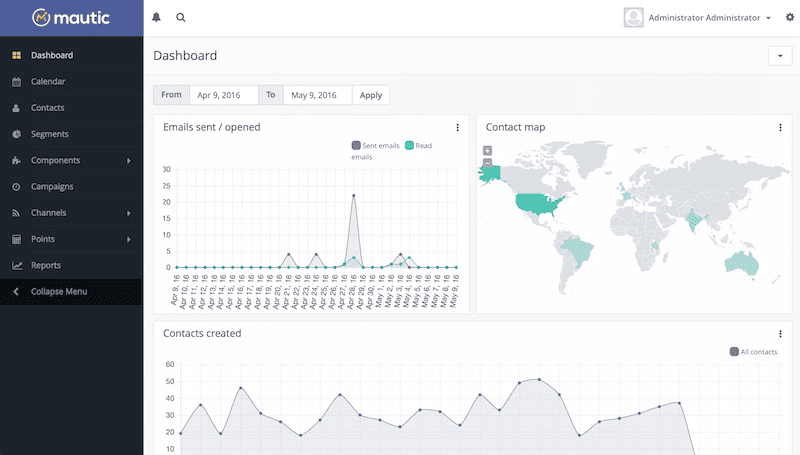 The Mautic dashboard is user-friendly and customizable. It displays a snapshot of your marketing operations, including email stats, campaign progress, and lead information.
Essential Features of Mautic
Mautic offers a wealth of features, such as Email Marketing, Social Media Marketing, Campaigns, Contacts, Forms, Landing Pages, and Reports. Each of these features is designed to help streamline your marketing efforts.
Creating Your First Marketing Campaign with Mautic
Selecting a Campaign Type
Mautic provides several campaign types, including email, web, social media, and SMS campaigns. Select the one that aligns best with your marketing goals.
Setting up a Campaign in the Campaign Builder
The Mautic campaign builder provides a visual interface to design your campaigns. You can add decisions, actions, and conditions to create a comprehensive campaign flow.
Customizing Email Campaigns in Mautic
Creating an Email
Mautic's email builder allows you to create professional emails. Choose a template, add your content, and customize as needed.
Personalization and Segmentation
Personalize your emails using contact field values. Segmentation, on the other hand, lets you send targeted emails to groups of contacts based on their behavior or characteristics.
Mautic Integration with Other Platforms
Connecting Mautic to your Website
Mautic can be integrated with your website using the Mautic tracking code. This allows Mautic to track visitor behavior and collect lead data.
Integrating with CRM and Other Tools
Mautic offers integration with a variety of platforms including CRM systems, social media platforms, and email services, amplifying its functionalities.
Leveraging Mautic for Lead Scoring and Nurturing
Understanding Mautic's Lead Scoring
Lead scoring in Mautic allows you to assign scores to leads based on their interactions with your campaigns. This helps prioritize leads for sales follow-up.
Setting up a Lead Nurturing Campaign
With Mautic, you can create lead nurturing campaigns to engage and convert leads. These campaigns usually consist of a series of automated emails based on the lead's behavior.
Analyzing Campaign Performance with Mautic Reports
Accessing and Understanding Mautic Reports
Mautic provides detailed reports for all your campaigns. These reports offer insights into campaign performance and areas for improvement.
Using Insights for Campaign Improvement
By analyzing these reports, you can identify which campaigns are performing well and which ones need tweaking. Use these insights to optimize your future campaigns for better results.
Wrapping Up
Mautic is a powerful tool that can boost your marketing efforts with its in-depth features and integrations. By understanding how to leverage these capabilities, you can run more effective campaigns, nurture leads, and enhance your overall marketing strategy. Happy marketing with Mautic!
Read Next: